Oxygen solutions for the aeronautics industry

TEI has extensive experience in the design and manufacture of control equipment for aeronautical oxygen applications.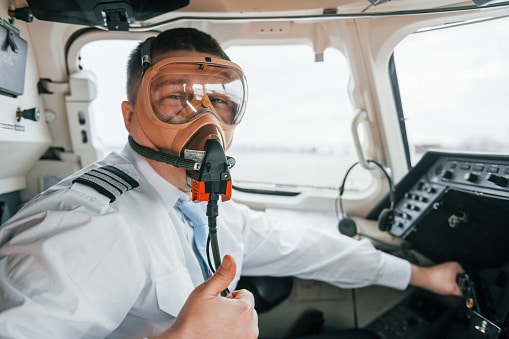 Our solutions cover a wide range of MRO requirements, from industrial cylinder frames to oxygen masks, including:
oxygen distribution in your workshops (booster station) or as close to the aircraft as possible (O2 distribution trailer)
filling on-board cylinders (subsistence and first-aid oxygen)
testing distribution accessories (taps, valves, regulators)
testing aircraft oxygen circuit components (masks stowages, portable regulator, crew masks)
Our solutions for the aeronautical industry include:
an oxygen booster station to supply your maintenance workshops
automatic filling systems for your oxygen cylinders
a multi-purpose "Oxygen" universal test bench, for testing components from cylinder valve to mask, in accordance with CMM procedures.
specific test solutions for on-board breathing systems (masks and regulators)
dedicated test benches for certain components (stowage masks, portable regulator transmitter RCF67)
Our added value:
provide you with advice to define the test bench best suited to your application, including CMM analysis.
provide a turnkey solution including installation, commissioning, and user training.
provide preventive and corrective maintenance for the test bench supplied, either on site or at the factory.
Choose an effective, resilient solution that is specially designed to meet your needs.
Universal Oxygen Test Bench (B001)
The B001 Universal Oxygen Test Stand is designed for MRO maintenance stations looking for a solution for testing oxygen components in aeronautical breathing systems, from cylinders to respirators. Our bench can perform the tests required by the CMMs for fixed cylinder valves (CMM 35-21-20 , 35-21-93 , 35-22-02 , 35-23-07); portable cylinder regulators and respirators (CMM 35-31-55 , 35-32-18), RCF67 Series Transmitter-Regulators (C 35-50-05), RMC1000/2000/3000 Series Oxygen Regulators (CMM 35-13-70 , 35-13-74 , 35-13-80) and MC10/MF10/20 Series Oxygen Masks with regulators (CMM 35-13-60 , 35-13-61 , 35-13-63).
The B001 Universal Oxygen Test Bench has 3 independent pressure generation channels (from -14.5 to +3100PSIG) combined with 5 flow measurement/regulation circuits (from 160cc/min to 2100L/min), enabling leak, proof or flow tests to be carried out over a very wide test range. The altimeter chamber and oxygen analyser enable tests to be carried out on civil oxygen regulators and masks.
The touch-sensitive HMI displays the measurements taken by the various instruments and enables control setpoints to be entered, all centralised in an intuitive synoptic display for the user.
The integrated instruments (pressure sensors, flowmeters, analysers) are Plug & Play: they are therefore automatically recognised by the bench, which simplifies their maintenance. They can also be calibrated in a laboratory specialising in oxygen applications.
Highlights
Complete test solution with integrated controllers and measuring instruments
Plug & Play pressure sensor
Integrated software with touchscreen HMI
Extended and scalable test capability
OTHER PRODUCTS RELATED TO THIS SOLUTION
HIGH PERFORMANCE REGULATION

STAY INFORMED (EVENTS, NEWS, ETC.)